In this article, we will be discussing the similarities and differences between three duck species: Mallard, Black, and Mottled ducks. While these birds may seem easy to distinguish from each other at first glance, there are actually several identification challenges that birdwatchers and nature enthusiasts may encounter.
For example, male and female Mallard ducks have different plumage, and immature birds may not have fully developed their distinctive coloration yet. Black ducks can easily be mistaken for female Mallards, and Mottled ducks are often confused with female Mallards or hybrid ducks.
But don't worry, we will guide you through these challenges and help you become an expert in identifying these beautiful waterfowl. So grab your binoculars and let's get started!
In short
Female Mallards, Mottled and American Black Ducks are similar in appearance. Mottled Duck tends to be darker than the Mallard and lighter than the Black Duck. Ranges of the Mottled Duck (southern U.S.) and the American Black Duck do not overlap. Both species will cross with Mallards.
Bill color is a useful field mark. Female Mallard has an orangish bill with variable dark markings. Bills of the other two species range from yellow (male Mottled) to olive green on the American Black Duck and the female Mottled Duck.
Related: Do you know the key differences between geese and ducks?
Female Mallard shows more white on the leading and trailing edge of the speculum than on the other two species.
Note the pair of Mottled Ducks in the second image. The male has the typical yellow bill, while the female (rear bird) has an orangish bill, not an olive colored bill. Some major field guides indicate the female Mottled Duck has an olive bill, and one makes a point that it is always unmarked.
However, this bird clearly has an orange bill in sharp contrast with the yellow bill of the male. I have seen what appear to be pure female Mottled Ducks along the Texas coast that have an orange bill with dark markings, although they could be hybrids.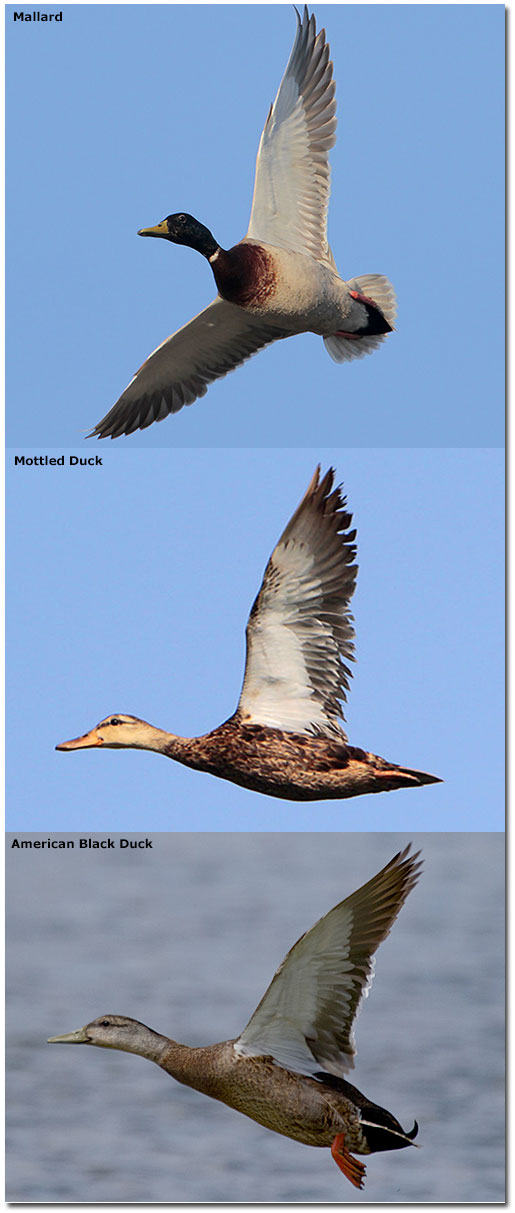 Read more on Birds category: