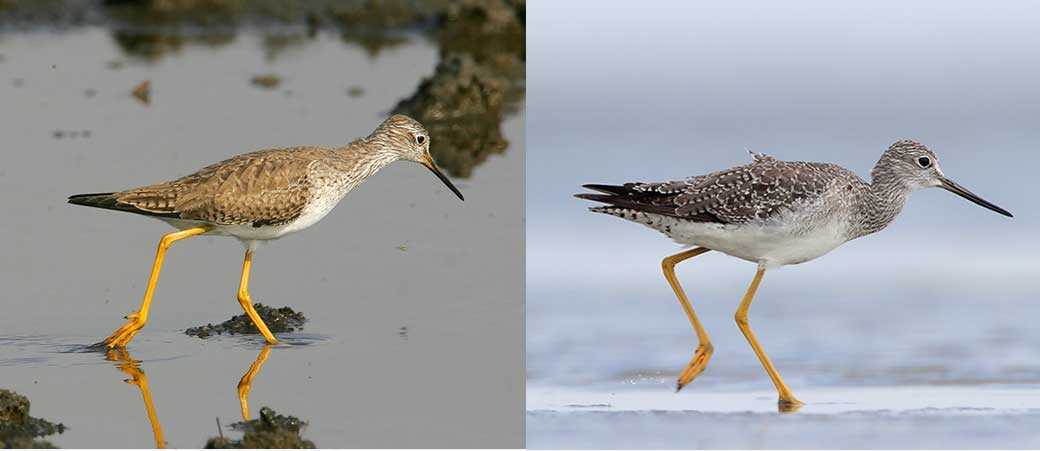 There are two yellowleg species regularly found in the United States and Canada. Both species nest in northern Canada and into Alaska. Both migrate south in the winter to all three coasts and into Mexico. The Great Yellowlegs is more widespread in the winter, but both species are generally common during migration and in their winter ranges.
The two species are very similar in appearance but can be told apart with a little experience.
The above photo shows both yellowleg species. The bird on the left is the Greater Yellowlegs. The two birds on the right are Lesser Yellowlegs.
Note the shorter, thinner and more pointed bill of the Lesser. As the name suggests, the Greater Yellowlegs is the larger of the two species, but size can be confusing unless there is a comparison with another species.
The bill of the Greater Yellowlegs is sometimes slightly curved upward, a feature not shown well in this image of a Greater Yellowlegs. In winter-plumaged birds, the bill is two-toned.

The bill on this Lesser Yellowlegs is thin and straight. Lesser Yellowlegs have a slightly less robust appearance the Greaters.